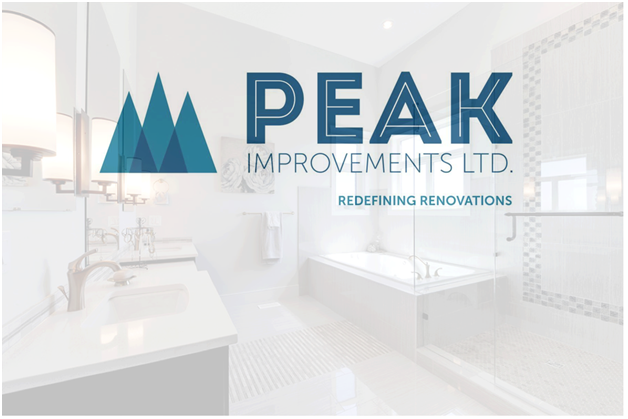 A bathroom renovation project not only equates to up to a 85% return on investment, but may also be one of the more satisfying reno projects you can make. After all, think of how much time you spend primping and pruning in your own personal powder room.
Whether you are looking to create a get-away oasis with a giant soaking tub and steam shower, or simply want a bit of updating to take place near your commode, Peak Improvements works with you from the very beginning planning stages, through construction, and then all the way to the finish line.
The possibilities of what can be done in a bathroom space are absolutely endless. Let Peak Improvements inspire you.
Prepare and Primp in Style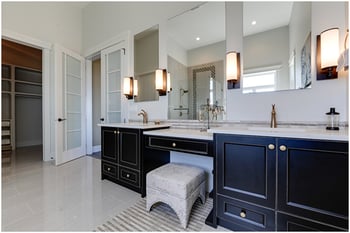 A gorgeous and elegant dual vanity, ensconced by contemporary lighting and sleek tiling allows for a bright modern feel, with a touch of elegance and eternal class. The transitional vanity makes room for a seated makeup table, placed between a spacious walk-in closet and a sophisticated French door entry. This bathroom has everything anyone could possibly desire.
High Style Sinks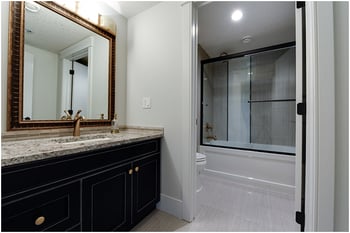 The simple addition of a solid surface counter-top with an under-mount sink can turn a basic bathroom into a room of stylish elegance. Stone surfaces, such as granite and quartz, offer tremendous variety in the way of texture, tone, and patterning. Thus, complemented by basic faucet and cabinet hardware, along with a large-scale mirror to brighten and highlight, the room can completely change with only a few steps.
Maximize Storage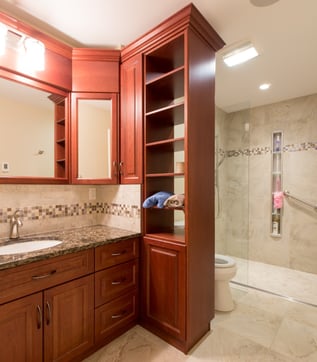 A sleek vanity set, which includes plenty of storage space, along with a gorgeous clean-lined counter top and sink vessels makes the most of comfort and convenience in areas with limited space. Cabinetry includes drawers, doors, cubbies, and more. The creativity in this concept allows for you to create a space you only thought possible in your wildest dreams.
Accentuate with Tile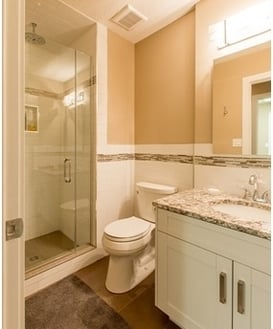 The options are limitless when it comes to accent tile. Just a few strips of color and texture can make a world of difference in terms of lighting, depth, and design. You can use a variety of materials, including glass, ceramic, natural stone, and a wood-look product to create a focal point. This is a simple solution for a tight budget and small-scale update.
Soak in Style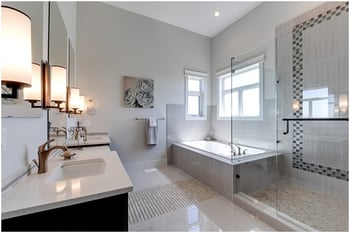 When you have the space, use it! The difference between a free standing, gorgeously tiled shower AND a soaking tub vs. a combination of the two is heavenly. The division can lead to an incredible ROI, but more importantly, the separation allows for a true bathroom oasis experience. Seamless shower doors butting against a fully tiled tub deck, accented by sleek and bright neutral tones throughout enables a full-on spa experience right at home.
Thus, make the most out of your Edmonton bathroom renovation experience. Use Peak Improvements to plan, produce, and perfect your powder room!