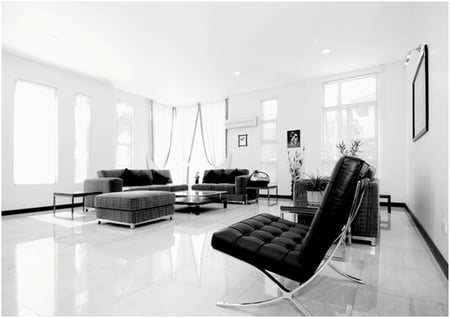 If you're looking to upgrade your living room space and looking for a little inspiration beyond the ordinary, search no further. Simple design ideas can change a lackluster sitting room or TV lounge into one of the most exceptional and enjoyable spaces in your home.
Texturize and Layer
Layering rugs is a popular trick among designers for highlighting the assets of your current space by adding color, texture, and artistry. Use a base rug of a neutral color that is flat-woven with a very low profile. Then, layer a top rug or two with something that displays vibrant colors and patterns. There's no need to be completely symmetrical with the layering either. The extra pop to the eye will entice visitors to the room and add interest to other fixtures. This type of design strategy works well with both traditional and modern décor.
Create Space
Beyond keeping your living room clutter free and clean, design your space around the concept of organization and "emptiness." Clean lines and simplicity are one thing, but also choosing furniture and fixtures that are smaller and that seem to float away from the walls creates the illusion of added space, as do both mirrors and glass table tops. This concept also helps clear your living room of unnecessary items and leaves you with all the essentials that you need for comfort, rather than overwhelming and mass crowd.
Bring Life to the Party
These days the center of attention in a room is less focused on the idea of technological entertainment and large scale TVs, like in the good old days, but on spending quality time together and enjoying life as it is. For an immediate addition of some real life in your living room, add some greenery and vases. A lovely planter or neutral terrarium will brighten up your space, add visual and physical breathability, a bit of color, as well as the psychological and health benefits of fresh plants into your home. You'll be surprised how much more relaxed you and your family will feel with leafy greens, fresh flowers, and the company of each other as the focus of your living room.
Opt for a Sideboard
Another interesting way to hide a TV or entertainment center and begin to focus on each other and clean line designs is to add a sideboard to your living room décor. This piece of furniture can be fairly minimal, but will also add significance, depth, and design to your living space while also providing a hideout for your electronics. You can even accent the top of the console with bright mirrors or interesting glass sconces for color and to make your living room truly exceptional.