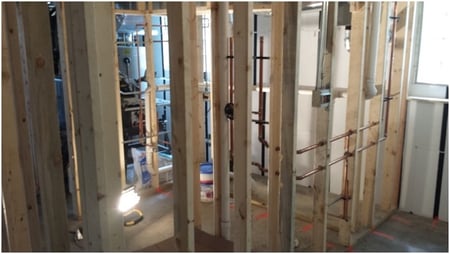 Depending upon the scope and scale of your basement renovation, costs can vary greatly. As you can imagine, a simple upgrade to an existing basement will be priced out at far less than a complete finish from just a bare skeleton. With most homeowners paying between $20,000 and $50,000, and the average being close to $35,700, the really great news about this is that the average return on investment for a basement project is around 63%.
Some of the basic factors that will greatly affect the overall cost estimate of your basement renovation in Edmonton include the size and square footage of the basement, the materials you choose, the electrical and plumbing needs of the project, and the room configuration and options you prefer.
Square Footage:
Clearly this is going to be one of the largest factors in figuring out the cost of your reno. One option, if you're looking to cut costs and you have a lot of room to spare, is to only finish or renovate part of your basement. This will result in a smaller estimate and a shorter construction period.
Materials:
Many different types of materials need to be considered for a complete basement finish, such as walls, ceilings, insulation, flooring, and lighting. And, if you're adding a bathroom, you'll need to consider countertops, cabinets, toilets and sinks, and possibly even a shower and tiling, along with fixtures. It's possible to find these materials on both the lower end of the quality spectrum as well as all the way up to the cream of the crop in terms of elegance, design, and quality. The decision is yours, which means you'll need to make choices that best fit within your predetermined budget.
Electrical and Plumbing:
Most likely your basement will need to be fitted with additional wiring and plumbing. The more intricate the wiring and plumbing (bathroom additions with a tub or shower), the higher the costs will climb. In fact, the most expensive aspect to a basement renovation is the bathroom. Thus, again, selecting options to fit within your budget is always important.
Configuration:
Both bathrooms and bedrooms in a basement, as well as luxuries like a wet bar or movie theater, create a higher bottom line, but also add value to the house and, most likely, a greater return on investment. Extra bedrooms and bathrooms, in particular, mean potential buyers will pay more for your house in the long run, if you choose to sell.