As you make design selections for your bathroom renovation, you'll begin to discover that the choices you make are a large reflection of your personality and style. From the big stuff, like cabinetry, tiling, and tubs and showers, to the smaller things like fixtures, lighting, hardware and even countertops, the options your pick are a part of your lifestyle and reflect much about who you are.
That said, how do you best select a countertop for your bathroom renovation? With a few things to keep in mind, you have multiple options.
As you browse what is available to you, consider both functionality and aesthetics.
Granite
Just like in the kitchen, granite remains the number one choice of countertops for bathroom renovations. It is long lasting, stain resistant, available in many different styles and colors, and as a natural stone option it just looks classy. It's one of those things that will fit in the whole spectrum of home styles and no matter who you are. It's just that great. Sealed and finished, the natural stone can last a lifetime.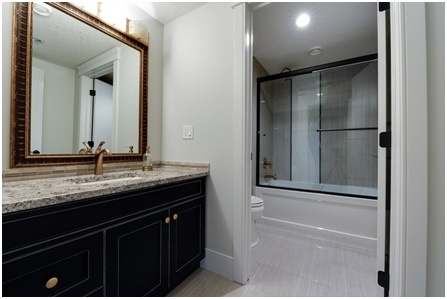 Quartz
Manufactured quartz imitates the look of limestone, granite or marble, but is even more resistant to scratches and stains. Made up of 90% quartz particles, this synthetic composite comes in a wide variety of colors and thicknesses. It's ideal if you're looking to hone interesting edges on your countertops in the bathroom.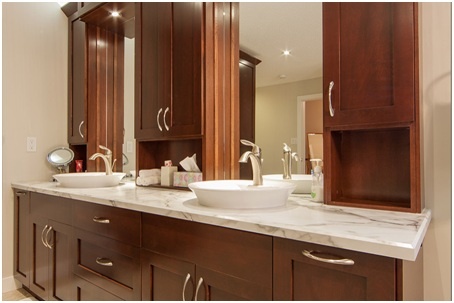 Tile
Tile is yet another option. Smaller format tile is a bit outdated and can be rather inconvenient, if you're looking to place something large on the counter without level issues (just like bowls in the kitchen), but large format tiling is really emerging as a popular style. What was once reserved for flooring is now quite the rage for bathroom countertops. With so many options in color and texture, a large format tiled-counter can look extremely chic and impressive.
Concrete
A more masculine option, concrete is rather durable when sealed properly. In fact, it can be a more functional option for the bathroom than in the kitchen, as typically there is less risk for heat damage in the bathing areas. Concrete can also be tinted, textured, and stamped for a more unique look. You really can go all-out, if you choose.
Recycled Glass
Extremely interesting, and also very pricey, an amalgamated pressing of different colors and style of glass, compressed into a countertop can add an extreme amount of artistry and depth to your bathroom renovation. Why not consider it? Chances are that none of your neighbors will have this option.
Natural Stone
Only because there may be less risk of damage than in the kitchen is it more suitable to choose softer, extremely exquisite stones for the countertop in the bathroom. Think about translucent alabaster or marble. These are soft and porous, but, oh my, do they ever bring elegance and class to your powder room vanity.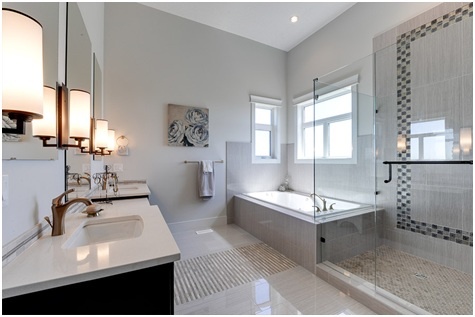 Interested in renovating your bathroom in Edmonton or the surrounding metro area? Begin generating ideas for your renovation with our premium guide - Renovating a House, Creating a Home! Click the button below to download this free resource!