If you've done any research surrounding kitchen renovations, you've likely discovered all the unique and amazing options when it comes to countertops for your food prep space. The sky is the limit in terms of material and creativity. From the recent resurgence of laminate to the more modern explosion of hammered copper, pressed recycled glass, and even illuminated alabaster, the artistic availability is rather surprising.
What material makes the most sense for your kitchen renovation?
Granite
For many years, the top countertop choice for culinary connoisseurs was granite. This solid surface comes in hundreds of different colors and styles, offering great versatility. Polished granite is a somewhat durable work surface, and also offers a high-end look, adding to your overall home value. Because it is a natural material, variation in the stone's pattern is common, adding artistic appeal. But, this can also make matching up slabs tricky for larger kitchens. The cost of granite and quartz are comparable, but natural granite requires a bit more care than manufactured quartz to keep it looking pristine: rapid cleaning of acids, oils, and wine to prevent staining, as well as annual sealing.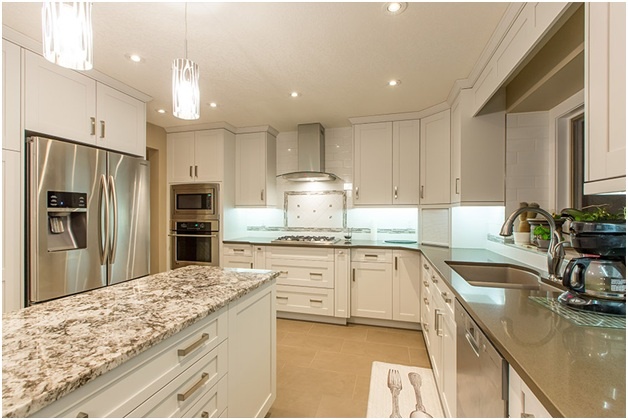 Quartz
Practically maintenance free, engineered quartz countertops are stain, acid, scratch, heat, and impact resistant due to their non-porous surface. Because of that, they do not require sealing, like other stone surfaces. Quartz is also available in a wide range of colors and patterns, much like granite, but some homeowners find it lacks the elegance, luster, and flow of natural stone and granite.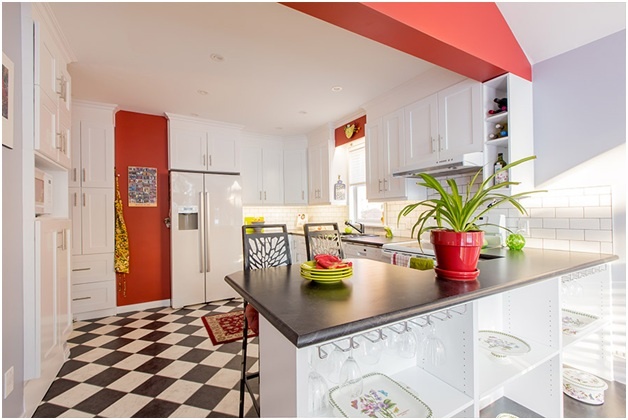 Marble
With a timeless appeal, marble gives any kitchen a quintessential elegant and luxurious look. Marble is dreamy. However, it's also very soft and porous, which means scratches, dents, and staining can be a problem. Regular sealing and special care with anything acidic is essential in order to prevent etching, and will keep the surface looking clean and bright.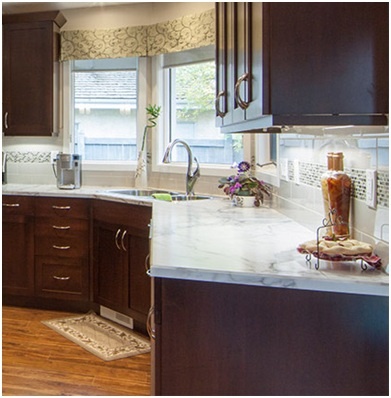 Glass
Sleek, streamlined, and even colorful, glass countertops have many benefits. Countertops from glass are available in a variety of colors and shapes, which means the décor possibilities in your kitchen can go any direction with glass. Although it's on the higher end of the price spectrum for countertop materials, the popularity of glass countertops is on the rise thanks to its modern look and unique appeal.
Concrete
A thick slab of concrete can be an eye-catching focal point in a modern kitchen. Much like glass surfaces, concrete countertops are highly customizable, with the option for many different color schemes and textures. In fact, concrete can even be mixed with other materials, like glass, tile, and other stone, to create an exceptionally artistic look. One downside to this type of countertop, though, is its tendency to easily stain. Just like marble, it needs to be sealed properly and somewhat often to keep it looking its best.
Wood
Wood countertops can offer a cottage kitchen look with butcher-block blonde wood, or can be an exceptionally elegant highlight to a traditional formal kitchen with custom cabinets and crown molding. Both decorative and functional, a wood countertop surface is ideal for food prep, if properly sealed. Believe it or not, wood countertops are sanitary, even for chopping meat, and are highly heat-resistant, unlike concrete or marble, and even some other natural stone options.
These are just a few of the more popular kitchen countertop surface options. Really, the list of materials available goes on and on. That said, when making your decision about what is ideal for your kitchen reno, keep in mind both the aesthetics of the surface, as well as the durability. And, don't be afraid to mix and match surfaces in the same kitchen. A kitchen island topped with gorgeous wood countertops surrounded by elegant marble over the cabinets and around the sink can create movement, as well as eye catching and stunning appeal.