Do you need to be inspired?
Do you need some kitchen renovation incitement?
Peak Improvements in Edmonton works with you from start to finish to create the kitchen of your dreams. Whether your project involves a simple appliance and countertop upgrade or the complexity of an entire team of subcontractors, Peak Improvements does it right.
Beyond dreaming, the imagination phase of a kitchen renovation can either be endless, or a bit daunting.
Be inspired by some of the great work already completed.
Back to Black
Black and white will always remain the most elegant and classy in terms of color and style. Whether or not you decide to mix the two tones together for variety, or simply stick to clean white lines, also keep in mind that brass hardware is coming back too. Jazz up your cabinetry with an eclectic selection of golden-hued hardware, mixed with stainless steel appliances, and an angled island configuration. Oh, and don't forget the accent tile.
Pot Lighting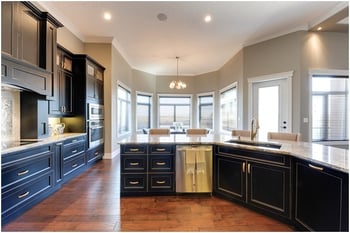 Pendant lighting adds depth and sophistication, but canned, pot lights high in the ceiling provides both practicality and gorgeous highlighting. The placement of the lights in the kitchen is important too. Over the sink, over the stove, and shining on the major work spaces in the kitchen not only allows for ease of kitchen and cooking work, but brightens up the entire space. And, don't forget about the possibility of under-mount lighting beneath your cabinetry, even the toe kick can have accent lighting as well.
Accent Tiles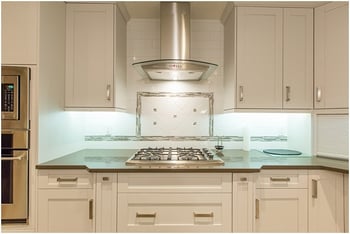 Simple strips of accent tiling can bring a boring and uniform look to something exciting and enticing. You don't need a lot, just a simple splash of color and geometry can make or break a kitchen space in terms of visual appeal. And, when it comes to accent tile, the possibilities are endless.
Brighten Up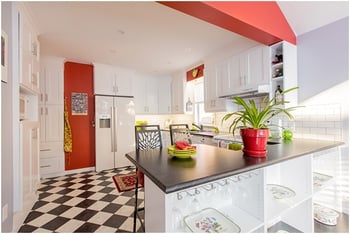 Don't be afraid to add an accent of big and bold color. Black and white are classy, but a few complementary walls of bright red and blue will spice up your life and awaken your appetite in the kitchen. Choose clean lines and don't over do it. A little color can go a long way.
Open Up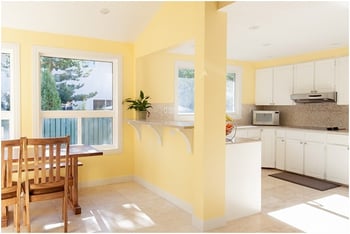 Back in the day, the trend for kitchens was small, separate spaces. Now days, we all want bright, open, and integrated living space throughout the entire home. Don't be afraid to open up your closed off cooking space or "shot-gun" window from the 1950s. We all enjoy chatting through the cooking process and participating from across the room – particularly a newly brightened and expanded room.
Creative Storage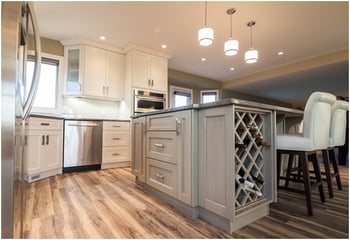 Get creative with your storage space. Kitchen cabinetry no longer needs to be reserved for pots and pans. Fancy-up the end of an island with custom wine bottle storage cabinetry and put your best collection on display, or enjoy easy access to your nightly routine.
Are you inspired yet? Peak Improvements will guide you through your renovation process and help you create the kitchen of your dreams.