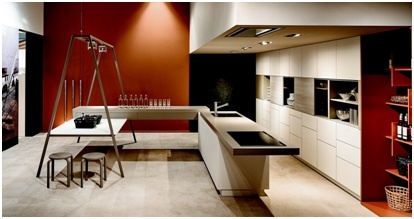 The most effective, functional, and attractive kitchen lighting involves layering and overlapping different types of lighting and fixtures. This proven method you'll create a cooking space that makes the most sense for your cooking practicality, an eye-catching layout for entertaining, and a warm and inviting space each and every day.
Rather than lighting your entire kitchen with one giant overhead fixture or all canned lights, which can cause both ineffective direction for food prep and an overpowering glare, try selective placement of directed canned lights or "task lighting" and then creative and aesthetic lights and pendants elsewhere.
Pendant
Over the island or sink area, pendant lighting will be extremely effective to illuminate your workspace, but to also add some artistic flair.
Under Cabinet Mounts
Carefully mounted beneath your overhead cabinets, this type of lighting can be a lifesaver for chopping, mincing, mixing, ...anything cooking related AND looks really sharp at night when all the other lights have been dimmed, the dishes are done, and you're simply relaxing around the table or on the nearby sofa.
Pantry Bulbs
These can be simple lights, but are highly important. Even with the natural sunshine beaming through the windows mid-day, without effective illumination in the pantry, you'll still be struggling to find that can of tomatoes you know you have hidden somewhere.
Ambient Lighting
Not necessarily designed for functionality, ambient lighting creates warmth and an invitation to relax and enjoy the space.
Accents
This is the least common layer of lighting in the kitchen, but is becoming more common as we spend more time in the kitchen for entertaining. Highlight your unique backsplash with some lighting to create a differential focal point, or really make your impressive piece of artwork behind the table stand out with some extra illumination.
Chandelier
Decorative lighting over the kitchen or dining table has come a long way. If traditional crystal suits your fancy, go for it, or if you enjoy rustic antlers, that's another option. But don't forget to explore anything and everything for this area – just remember not to hang the fixture too low to block facial interaction when chatting around the table standing up or that may interfere with taller decorative vases in the table center.