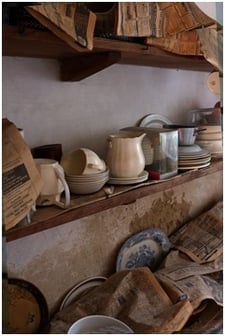 Having a dream kitchen right at your fingertips, equipped with absolutely everything you need, is essential for the happy cook. However, even if everything is available and nothing is accessible, your dream dinner can become your kitchen nightmare.
The key to kitchen Zen, and peace throughout your entire home, for that matter, is organization. Embrace the following seven tips for your own organization, sanity, and best practices in the kitchen!
1.
Storage Stacks in the Cabinets
Use metal mesh or grated shelving inside your cabinets for greater organization and dish "dispensing." With dinner plates on the bottom shelf, salad plates next, and then soup bowls and mugs all on their own, you'll no longer suffering the tumbling tragedy of broken dishes.
2.
Hanging Tools
Rather than stuffing all your important measuring spoons and cups, ladles, whisks, spoons, and spatulas all within one disorganized drawer, try hanging those items from minimized hooks inside a tall cabinet door. Not only does this make your life leaps and bounds easier in terms of finding just what you need, but it also keeps your counter free of the clutter that a "spoon crock" might create.
3.
Vertical Shelves
Who says shelving always needs to be horizontal? Try using mesh filing inserts, stacked on their sides, inside lower cabinets to help you organize cookie sheets, baking pans, and even cutting boards. This is a great space saver as well.
4.
Magnetic Spice Racks
Installing a magnetic spice rack allows you to stick your most used spices next to the stove, or wherever is most convenient for you, and keeps the top labels easily visible so that you may simply grab and go, rather than searching through your stacks and stacks of half used bottles, knocking over the vanilla while reaching for the oregano.
5.
Pull Out Cabinet Drawers
Innovative, for sure. Opening a deep cabinet only to be able to pull out the bottom "drawer" to reveal everything stored deep within. Simply genius. Why didn't we think of this earlier?
6. Storage Jars
You know all the half-empty bags and boxes of food in the pantry, taking up space and (if bulk), awkwardly strewn about? Well, remember all those extra jars you also have laying around from the Mason jar décor craze of 2012? Marry the two – put them to good use. Store your pastas, grains, legumes, nuts, dried fruit (anything really) inside those jars and containers with clearly visible labels. This will help keep your cabinets and pantry clean and organized (you can even arrange alphabetically or categorically, if you please) and will save you a great deal of space!
7. Pot Rack
Let's face it, stacking pots and pans inside a cupboard, no matter how organized you are, is painful. Nothing stacks neatly and no two pots will ever fit right inside each other. The solution is to invest in a hanging pot rack. This can be suspended either from the ceiling or from a wall. However you choose to lift those pots from the cupboards and display in mid-air, you'll be very happy you did.