Between 2006 and 2011, the number of Canadian centenarians increased by more than 25 percent. According to data from the Office of the Chief Actuary (2014 Mortality Projections for Social Security Programs in Canada), the average lifespan for Canadians aged 65 and above, is 87 for men and 89 for women.
And while Canadians are living longer, the majority of them want to remain in their own homes as long as possible. But that doesn't just happen. How can you plan ahead to ensure you'll be able to in your own home safely and comfortably? Let's take a look at the best aging-in-place features to include in your home renovation.
Think About Your Floor Plan
Consider a renovation that allows for single-story, main level living that includes a full bath. You can still have upper or lower level rooms for guests, but you'll take stairs out of the equation for everyday living. Talk to your contractor about the possibility of widening hallways. You may never need a walker or a wheelchair, but it's better to be prepared (plus, you'll enjoy the more spacious feel).
Have at least one entrance to your home that doesn't have a step. That could be through your garage or elsewhere. It's a good idea to include non-slip flooring in your entry space to add safety.
Rethink Your Kitchen and Laundry Room
Think about wall cabinets that are lower than conventional cabinets to allow easy access. Install roll-out shelving on lower cabinets so that you can pull shelves out to easily reach items at the back. Install a "lazy susan" in corner cabinets for easy access as well.
For your laundry room, you might want to consider pull-down shelving. It actually lowers the shelves or cabinets to a more comfortable height. When you've retrieved what you want, you can raise them up to conventional height.
Use lever handles for the faucets in kitchens, bathrooms, and laundry rooms. They are easier to operate. You might also want to opt for thermostatic or anti-scalding controls as an additional safety measure.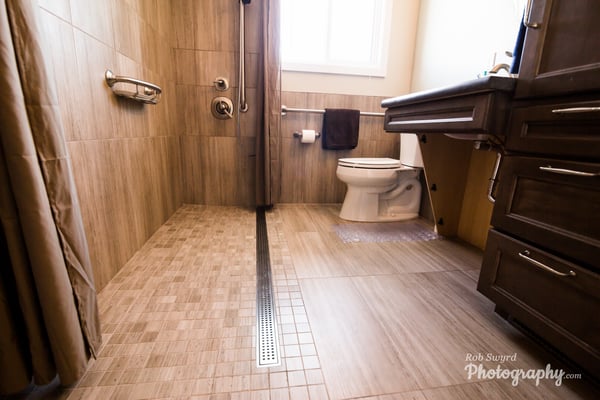 Basics for the Bathroom
Install a shower that has no threshold to reduce tripping danger. Also, include an adjustable/handheld showerhead with a long enough hose to allow you to sit while you shower if you choose. Of course, having a built-in seat/ledge is a good idea as well. Make sure that you include adequate light in your shower area for better vision. If you also want a tub, choose one that is lower to make it easier to get in and out. Slip-resistant flooring in bathroom and shower is essential. When replacing the toilet, choose one that is higher than the "standard" toilet height. It makes it much easier to sit and stand (and can reduce falling danger.
Lighting and Outlets
Adequate lighting is extremely helpful for mature adults who want to stay in their own homes. Make light switches easy to access from both ends of a hallway or a large room so that you don't have to go through a dark area to turn on lights. Rocker switches are easier to operate, so consider using those (plus they look more elegant). Consider floorboard lighting for hallways at night. These dimmer lights won't blind you if you get up in the middle of the night—and they provide light where you really need it.
Reconfigure Your Storage
You might want to look at adjustable shelving and closet rods that make it easier to store things and get them out. Include plenty of light in your closets to make it easier to see what you're looking for. You may also want to keep shelves and hanging bars at a lower level so you don't require a step stool or a chair to reach items.
Flooring Features
Avoiding falls is a key concern when considering aging-in-place. That's why flooring is so important. You'll want flooring that is smooth, non-glare and slip-resistant. That may mean eliminating small throw rugs that can slip or trip you up. If you choose carpet for some of your rooms, you will want to install low pile carpet that has a firm pad to avoid tripping.
Gadgets and Gizmos
In addition to renovations that can adapt your home to your changing needs, there is also assistance from technology that can make remaining in your home easier, and safer. Here's a quick look at just a few gadgets and gizmos that you might want to think about.
Video Doorbells allow a homeowner to see, hear and speak to someone at their door (via a smartphone, tablet or PC) without having to open it.
Smart Thermostats can provide additional comfort and allow homeowners to regulate the temperature in the house through a mobile device (phone or tablet) or even through a home assistant such as the Amazon Echo.
Smart Light Switches offer a great way to avoid falling danger in a dark house. Homeowners can turn lights (or even small appliances) on remotely with a phone, a tablet, or a smart home assistant.
Wall Cabinet Lifts can make reaching items on the top shelf of a cabinet in the kitchen or laundry room easy—and much safer.
There's More to Aging-in-Place Than Just Your Home
While it's important to make sure that your home is as safe and comfortable as possible, there are other elements of the process that are also extremely important if you want to continue living safely and securely and independently. Click here for a very helpful free brochure from the Federal/Provincial/Territorial Ministers Responsible for Seniors that looks at additional issues related to aging in place. You can also learn about programs and services to support aging in place offered by your local, provincial or territorial government by visiting Canada.ca/Seniors or your local Service Canada office.