Whether you're looking for a simple powder room makeover, or are considering tearing down walls to create a luxurious ensuite, bathroom renovations remain a popular choice amongst homeowners. When done properly, a bathroom renovation improve your home's overall aesthetic, and can increase your property value drastically (returning up to 80% return on the cost of the renovation). If you are considering a bathroom remodel and are unsure of where to start, below are a few quick tips and tricks to keep in mind!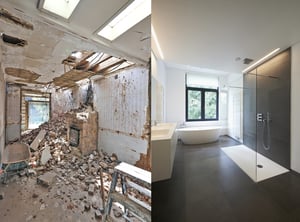 First Things First
As with any home construction project, your first step should be to sit down and clearly outline your budget. Knowing how much you're able to spend will help determine the best way to approach your overall goals. For example: if you want to do a total overhaul, but you don't think you have the savings to do so right now, there are different ways to structure a remodel in stages so you face minimal disruptions and spread your budget out over time.
When considering your budget, a good approach is to decide on a few numbers: ideal target spend, comfortable flex spend (just in case your perfect fixtures are slightly out of the ballpark), and an absolute hardline number that you cannot exceed. Bear in mind that this final number should include a safety net of 10-15% to cover any " I don't care what it costs I must have that (fill in the blank)" item as you finalize all your selections and the scope of work.
Know The Difference Between Your 'Wishlist' and Your Must-Haves
While the goal of any renovation is to finish with results that meet (better yet, exceed) your vision, part of the initial process is identifying any areas that need to be dealt with first. This may include things like:
Repairing old leaks
Taking care of any visible hazards
Removal of any moldy or water damaged materials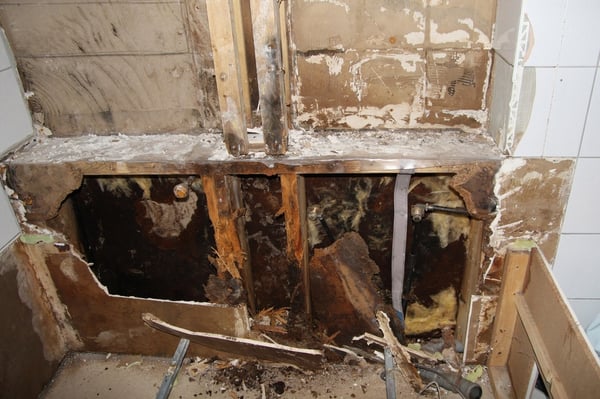 Once the essentials are taken care of, you can work achieving your dream fixtures, lighting, tub and shower features and finishes with ease.
Be Careful With DIY
It may be tempting to save on the cost of renovating by tackling the project yourself, but the fact is, bathrooms can be a particularly tricky area to renovate on your own. Even experienced DIY'ers may be overwhelmed by all of the different variables of bathroom construction, and risk unnecessary mishaps like pipe bursts, leaking wall tile etc. Working with a professional team expedites the process and avoids extended loss of the use of the bathroom. There is also the possibility of compromising the quality of the final fit and finish of your new bathroom.
Design With The Future In Mind
There's no doubt that a fresh renovation instantly rejuvenates your space, but a properly executed renovation will keep its lustre and value for years to come. Work closely with your contractor to discuss what features best suit your needs, as well as providing the best long-term value.
Ready to Get Started?
Peak Improvements is your premier home renovation specialist throughout the Edmonton Capital Region. With decades of combined experience, our team works closely with YOU to make your dream renovation a reality. Contact us today to learn more!