Is your unfinished or outdated basement missing out on it's full potential? Peak Improvements is your first choice when it comes to creating your dream space. Learn more about the benefits and possibilities of finishing your basement below!
Why Finish The Basement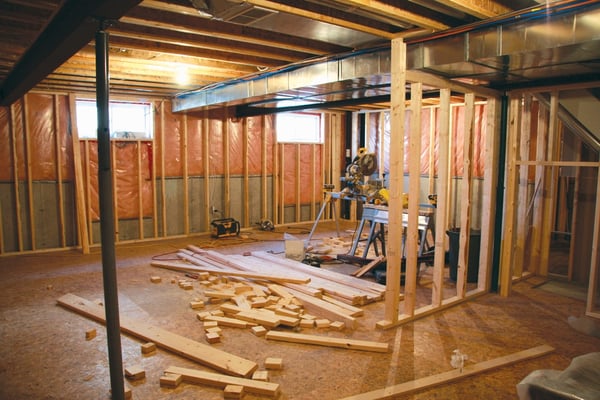 Plenty of homes boast empty basements used as a damp and dark storage space for the majority of the year. While this may suit some families well, many homeowners are discovering the wide range of opportunities that can be explored by making the most of your space. Key benefits to consider are:
Increased Property Value
In terms of other home renovations, basement remodels have a high "cost to return" benefit for homeowners, granting a higher resale value for homeowners looking to place the property on the market in the future.
Additional Space When You Need It
A relatively popular remodel option for basements is the construction of in-law suites to accommodate aging family members, moderate cost additional finished space to use as you wish , or to include a revenue generating, legal secondary suite.
Better Overall Insulation
Since basements are notorious for being cold, damp spaces, they are prone to potential moisture build-up, insects and even at times, rodents, entering into the home. Dealing with a professional and insisting on proper insulation, air barrier sealing and finishing techniques are a crucial elements of a basement renovation.
Things to Consider for Your Renovation
While basement renovations can be hassle free with the right contractor, they do take some additional planning to ensure a smooth process. Common factors to be taken into account include:
Preventing moisture build up:
Start with the one often overlooked, critical detail: Ensure a positive grade that slopes away from your concrete basement foundation walls. Having a positive grade will prevent water and subsequent frost damage that will eventual leads to cracks in your foundation. A cracked concrete wall leaks water into your basement and will wreak havoc on your new basement finishes. Also, ensure attention to other details like ventilation, insulation and properly installed building perimeter air barrier. These are important ways to help prevent mold and moisture build up in your basement.
Make Sure Things Are Up To Code
As with any major renovation, you'll want to ensure your plans abide by all applicable development codes.
Be Careful With DIY
Because basements are often a hotbed for wiring, plumbing and mechanical components, it's best to leave and major alterations to certified professionals. Even those with past home project experience can easily make a simple, but costly mistake or jeopardize your family's health and safety.
Ready To Make Your Vision A Reality?
Peak Improvements is your premier home renovation specialist throughout the Edmonton Capital Region. With decades of combined experience, our team works closely with YOU to make your dream renovation a reality. Contact us today to learn more!