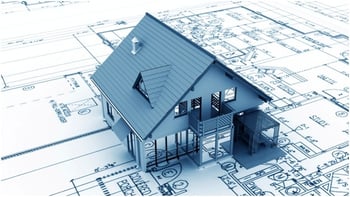 Home renovation projects, whether the scale be large or small, can be pricey. Although a home upgrade is definitely worth the cost in almost every situation, budget is in the forefront of most homeowners' minds when planning a project.
When taking into consideration your home renovation in the Edmonton area, the most important factors that will have an effect on the final price tag are:
Space
How large of an area are you looking to renovate or expand? A small office upgrade, a powder room primping, or even a few layers of paint can and will cost dramatically less than a giant kitchen or master suite expansion. Just as in buying a home, size definitely matters when it comes to price.
Materials
What type of materials are you planning to use? A simple kitchen countertop made from laminate with manufactured cabinets will have a far smaller price-tag than miles of granite and marble, top of the line appliances, and custom cabinetry. Do you want manufactured hardwood or the real deal? Are you okay with basic tile or do you prefer glass mosaic accents? All of these choices and your sense of style will make an extreme difference to your pocketbook and the final bill. Thus, it's important to be clear and upfront with your budget when planning with your renovation company and compromise when necessary on materials in order to stick to your price point. Select the more expensive items that make the most sense for you, your lifestyle, and your long-term happiness. Do you really need that stain-proof grout or the heated floor in the laundry room? Maybe the Sub-Zero refrigerator is exactly what you need to make you full of joy in the kitchen.
Complexity
How much change do you want to make? Upgrading a kitchen with new appliances and cabinets with a fresh coat of paint is one thing, while moving plumbing, knocking down walls, and adding a center island is quite another. Both kitchen and bathroom renovations, involving the moving and addition of plumbing can be highly complex and the costliest aspects of a job. If cost is a major consideration, which it usually is, consider how multifactorial of a job you want to undertake.
Season
What time of year are you looking to make changes to your home? Believe it or not, contracting and renovation companies may have price differences based on the season. For example, when business is booming during the summer months and schedules are tight, the price of a project may increase up to 30%. However, when business owners are slow during the winter and holiday seasons, you may be able to negotiate a better price. So, a hectic household full of dust and construction amidst a lit Christmas tree or menorah in the family room may leave you with a little extra coinage for celebrating come New Year's Eve.
While there certainly are other factors to consider in terms of the cost of your home renovation project, the space and scope, materials, complexity, and time of year you choose to undertake your project are all things to closely consider before you begin.