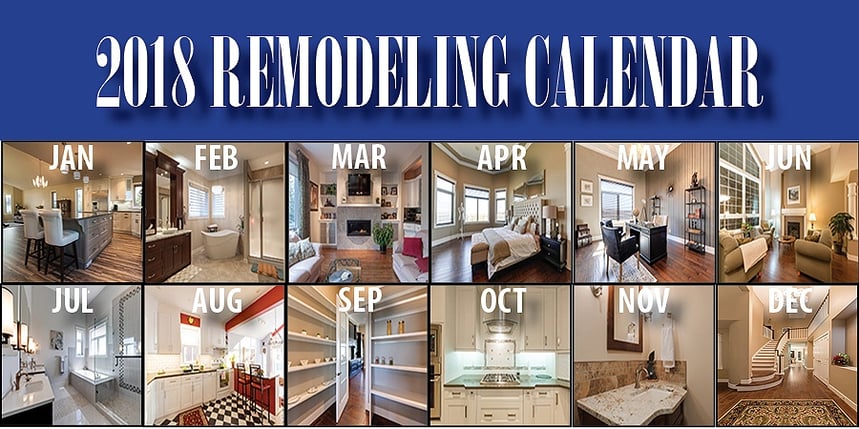 Sometimes we're asked about the best time to renovate an Edmonton-area home. The answer, naturally, depends on your needs and what's convenient for you. And while there may be times when it can actually be less expensive to renovate (we'll get into that below), the truth is that any month could be a good time to renovate! Let's walk through the calendar together!
January
We all know that the New Year signals new beginnings and often starts out with resolutions. Why not resolve to renovate your kitchen to allow you more space to prepare meals, gather as a family, and entertain friends? Plus, coming off the holidays may be a good reminder of how much you'd appreciate the space and convenience of a freshly renovated kitchen. Check out one of our recent kitchen renovations here.
February
Sure, Valentine's Day is a time to celebrate romance. But sometimes chocolates and roses just aren't enough. What could be more romantic than a master bathroom that allows you to slip away and soak in luxury if you want? Click here for a look at a main bathroom and ensuite renovation we recently did.
March
The weather in Edmonton in March isn't exactly balmy. The lows range from 14 degrees F early in the month to 26 degrees at the end of the month. And the highs range from 31 to 44 degrees F in that same period. Instead of shivering outdoors you could sit next to a fire in your renovated family room and watch the Oilers play! Plus, in the colder winter months, you may be able to save a bit on renovation costs because demand is lower.
April
This time of year, you may dream about seeing signs of spring outside. But as long as we're talking about dreaming, why not consider a Master Bedroom upgrade that will make your dreaming that much more sweet? Part of that upgrade might include building in a walk-in closet for your Master Bedroom. Then, when you're ready for spring-cleaning, you'll have plenty of space to store whatever you want (maybe even your winter clothes!).
May
As the weather gets warmer many people wish they could spend more time at home instead of at the office. May might be a great time to renovate a bedroom that's no longer in use and turn it into a beautiful and functional home office. Who knows? Maybe you'll be able to work at home on Fridays—and get an early start on your weekends.
June
Want to entertain more this summer? Perhaps an upgrade or expansion of your family room is in order to allow you to great guests more graciously. Perhaps even a patio extension might be in order to allow you to do more entertaining outdoors.
July
Whether you're celebrating Canada Day, Memorial Day or simply gathering with friends, it's nice to have a special place to do that. And when the weather is nice, who wouldn't rather be outdoors? Maybe it's time to install a patio area, a deck, or even an outdoor kitchen.
August
Other provinces may celebrate Heritage Day in February, but Residents of Alberta do things a little differently and celebrate in August. It's kind of nice to stand out. And as long as you're standing out, August may be a good time to renovate your kitchen and make it uniquely yours with a layout and interior design that reflects your specific personality or heritage.
September
As the September equinox arrives, you may be starting to think about how you'll probably begin spending more time indoors soon. For a lot of homeowners, that means more activity in the kitchen. One thing that can really help you get the most out of your kitchen is to add a built-in pantry that provides lots of storage space and keeps your counters free of clutter.
October
You don't have to wait until Halloween to treat yourself to a significant bathroom upgrade. Imagine how much nicer it could be getting ready for your day each morning (or getting ready for bed at night) if you had adequate space, lighting, and even double sinks in your main bathroom?
November
One of the most-used rooms of your home (and one that your guests see a lot of) is your guest bathroom or powder room. It can be easy to overlook this small space, but it can actually give you a great return on your investment. On top of that, it's a room that stands alone and lets you have a little bit of fun with the décor if you want. And because construction work sometimes slows this time of year, you may even be able to get it done more quickly—and you might even save some money.
December
You probably entertain more friends and family around the holidays than at any other time. What is the first impression that visitors have of your home when they come in? Maybe a renovation of your entryway is in order so that you can greet them warmly and with style.
Of course, you'll want to pick the projects that best suit your needs and your schedule. But hopefully, you'll glean some ideas from this "renovation calendar." We invite you to peruse our home renovation gallery for photos of the projects listed above—as well as some additional ideas to enhance your Edmonton-area home.