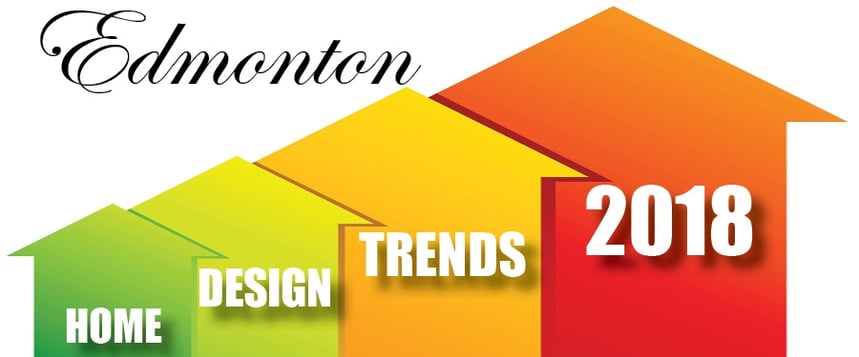 It seems that every New Year brings a set of new design trends for homes. Some have staying power. Others seem to fade away. Here's a look at some of the 2018 design trends for your Edmonton home that we think are probable. We'll focus a bit more on the ones we think are significant and deliver more impact—but we'll touch a bit on things such as color as well.
Open Stays In
Some have questioned whether the trend toward open style design for home interiors has run its course. After all, it's not exactly a new trend—it's been around for a few years. All the same, the popularity of open design seems to be holding its own—partly because it reflects a more casual, relaxed lifestyle. It also allows more use of natural light (which is a trend in and of itself). On top of that, it goes hand-in-hand with another trend, which is to blur the lines between the space inside your home and the outdoors.
One thing that goes with open style design, however, is the need to define different spaces—even if they are open to other areas. The kitchen/dining area you see in this image is an example of that. Even though the kitchen is open to the dining area the half wall between the two helps define both spaces.
Homeowners are also thinking more carefully about coordinating the different rooms that are visible in open-design homes. They are giving increased thought to the overall design of common spaces so that rooms such as the kitchen, the dining area, and the family room look like they belong together—despite their distinct characteristics. That's when it's nice to have a design-build contractor working with you to make sure that the design works before the renovation begins.
Islands in the Kitchen
Another trend that's been around for a while (and shows no sign of letting up) is the inclusion of islands in the kitchen. What's changed perhaps is that many homeowners are opting for larger islands (that serve both as food preparation areas and casual eating places). However, not every kitchen can accommodate a large island in the middle. There also seems to be an increase in narrow—and mobile—islands that can be moved around as needed in kitchens where space is an issue.
Colours and Fixtures
Of course, no new year would be complete without predictions regarding what the hot new colours and fixture materials will be. One definite change in the North American market is that it appears that quartz is now overtaking granite as the "go-to" material for countertops (in both baths and kitchens). This doesn't mean that granite is "out" but many contractors are seeing more requests for quartz than for granite. Both remain excellent choices, however. When it comes to fixtures, gold (not brass) seems to be making a resurgence—as long as it's not overwhelming.
Appliance Finishes
Some designers foresaw the demise of stainless steel appliances years ago. It didn't really happen. There was a bit of a foray into black appliances that never really took off. Now, however, there appears to be something that is a melding of the two that is growing in popularity. The new matte appliances are a dark matte with the luster of stainless. This could be a significant new challenger to stainless steel.
Kitchen Lighting
While recessed lighting remains popular in kitchens, a lot of pendant lighting is being used in conjunction—particularly in kitchens where casual dining takes place at the kitchen island.
Contrasting Cabinets
Another trend that seems to be picking up steam is having cabinets of contrasting colours. An example would be lighter (even white) upper cabinets and darker lower cabinets. Some designers (and homeowners) use a tile backsplash to transition from one to another.
Interior Paint Wars
As is often the case, some of the major paint manufacturers disagree on what the new "hot" colors will be for interior design. For 2018 the professionals from Sherwin-Williams project that three color palettes (Affinity, Connectivity, and Sincerity) dominate the color scene. Their competitors at Glidden paint have put forward their Black Flame (PPG1043-7) as the trendy new shade, according to House Beautiful.
What's really important in all of this is that any renovation you undertake should begin with good design. There's a big difference between trendy décor and great interior design (and here's a post that explores those differences). What you really want is comfort, convenience, and lasting style. We'd love to help you achieve those goals with your Edmonton renovation project!