Renovating the basement of your Edmonton home doesn't begin with lumber and saws and hammers and nails. It begins with inspiration. Sometimes that inspiration involves being able to envision great results—even where you can't see the possibilities. That's what's behind the "Before-and-After" photo you seeof the unfinished basement below we recently renovated (You can click here for additional photos). Hard to believe it's the same basement!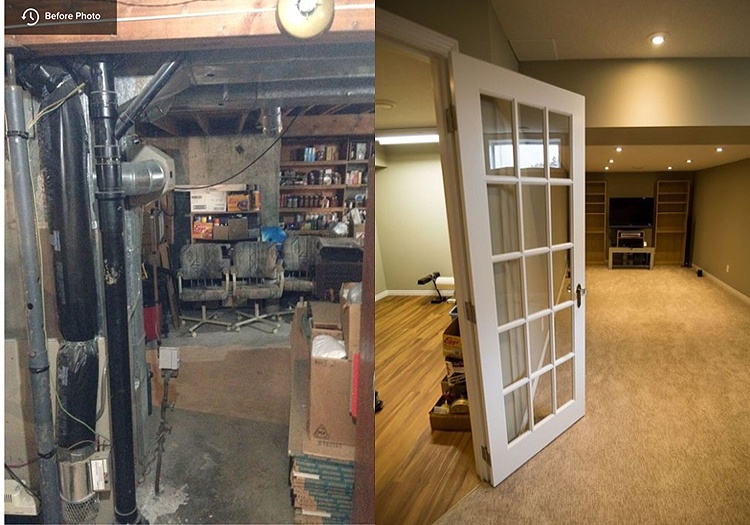 Once you realize that there are incredible opportunities to expand your living space right below your feet, there are so many different ways you can use that space. Here are just a few ways that you can turn the unused space in your basement into comfortable, enjoyable space for your family.
1. Great Guestroom
Here's an idea if you want to create a great guest bedroom in your basement that provides your guests with comfort and privacy. The sliding barn door provides both interest and privacy.
2. Get Your Game On
You may want to turn your basement into a game room for your family and guests. Whether you prefer pool or air hockey, this industrial style basement room can make your basement a great place to play.
3. Party Central
Perhaps you want a place where you can party, gather by the fire, have some casual conversation—or even watch football or hockey. Here's a basement renovation that has it all, including a bar and snack area!
4. Elegant Comfort
Maybe you're looking for a space that's just a little more elegant—without being presumptuous. This cottage style renovation basement offers bar seating for small, casual get-togethers, and also has comfortable conversation-area seating.
5. Watch & Work Out
Who says your basement can't fill multiple roles? Here's a look at a beautiful basement that includes both a comfortable and welcoming area for watching television or movies and a workout room right next door. Notice how the glass walls/doors let the eye take in the whole area—making the space look even larger.
These ideas are just the tip of the iceberg when it comes to turning your basement into a place you and your family will enjoy. If you can imagine a use for the space we can make it happen for you!
If you're like most people, you're probably curious about what a renovation of your basement will cost. Here's a post that takes a look at the costs of doing a basement renovation in your Edmonton-area home.