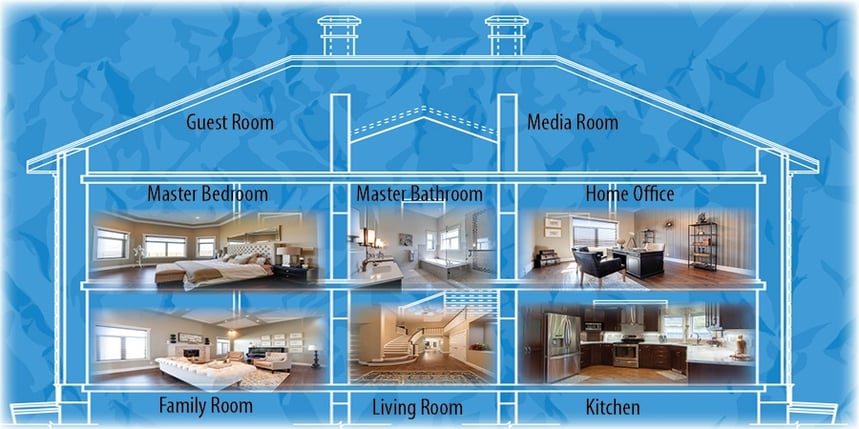 Here are a few questions to help you decide what part of your home to tackle
When some homeowners tackle the task of home renovation they pull out all the stops and do everything at once. At Peak Improvements we work on a variety of home renovation projects, from single rooms to additions and whole home renovation. For many Edmonton homeowners, however, renovating the whole house just isn't a viable option. They may not have the time or the budget to do everything at once. The question for folks like that isn't really if they should renovate—but what should they tackle first? Here are eight questions to help you determine what part of your home to renovate.
1. What part of your home causes you the most stress?
Renovating isn't just about improving visual appeal. It's also about improving comfort and convenience. If there are areas of your home that frustrate you on a regular basis, that makes that space a good candidate for renovation.
2. Are there any spaces that aren't functional?
There are times when what you need isn't more space—it's more usable space. If you have rooms that a big enough but don't function the way they should (think kitchen, laundry, bathroom) that might be a good place to begin.
3. What one thing would you like to change about your home?
Many of us enjoy our homes "except for that one thing" that really bothers us. If there is a particular feature of your home that keeps you from feeling at home you may want to focus on that.
4. Are you comfortable in your kitchen?
Do you use your kitchen primarily to prepare meals or do you also entertain there? Do you enjoy spending time in your kitchen or are you usually glad to get out? The kitchen is "the heart of the home" and investing in kitchen improvements pays great dividends both while you live in your current house and if you sell it later.
5. Do you enjoy your outdoor space?
What would it take to enhance your outdoor living space so that you can take advantage of being outside when the weather is great? Is there a change you could make to bring some of the beauty of the outdoors into your home?
6. Is your master bedroom a peaceful place you love to relax?
Or are you glad to turn out the lights at night so you don't have to look at it? What would make it a welcoming sanctuary for reading, listening to music, talking, or just sleeping?
7. Is there a line outside the bathroom every morning?
Having adequate space to comfortably get ready for the day is important. If there's a traffic jam outside the bathroom you might want to consider adding another bath—or at least renovating the space you have to improve efficiency.
8. Is your living room a room you really enjoy living in?
What would make that space a more comfortable and inviting space to spend time with family and friends?
9. Do you have under-utilized space in your basement?
Your basement space may offer great, untapped potential as an entertainment space, a place to pursue crafts or hobbies or even to create guest rooms. It can allow you to increase your living space without actually adding to your home's footprint.
When considering what part of your Edmonton home you might want to renovate, your decision should always come down to what kind of improvements will enable you to enjoy your specific lifestyle the most. It really doesn't make sense to put in a gourmet kitchen if that's not the way you live. (On the other hand, if you love to cook, you'll want to check out this helpful post about how to create an upscale chef's kitchen) The point is that you control your renovation and it should serve your wants and needs. So take another look at those questions and then prioritize according to what will make your home more comfortable and welcoming for you!