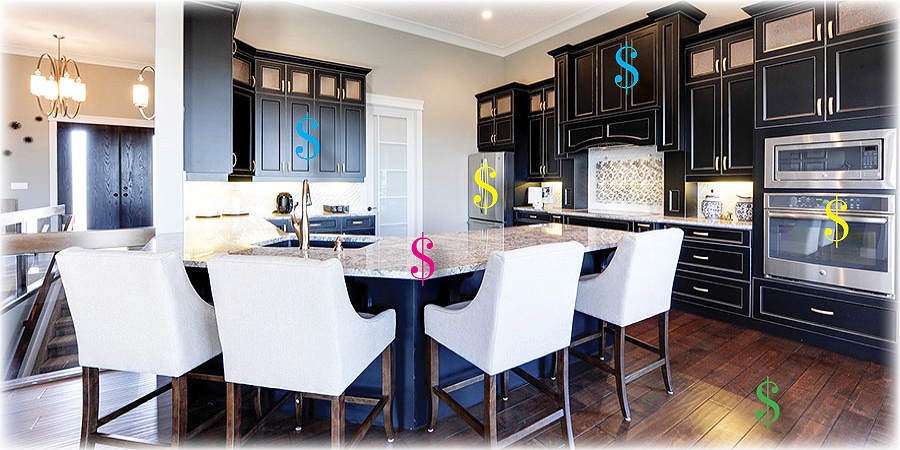 Kitchen renovations remain one of the top remodeling projects for Edmonton homes because the room is a focal point of the house for cooking, eating, informal gatherings and entertainment. It's a room that gets used—and whatever changes you make are readily visible. And while it's true that any change you make to your kitchen has an associated cost, there are some things that have a more significant cost than others. What features cost the most in an Edmonton kitchen renovation? Let's look at four of the biggest expenses. One huge benefit of using a design-build contractor for your renovation project is that you have a better chance of controlling those costs up front.
Cabinets
While you can find a wide range of pricing, in all likelihood your kitchen cabinets will be your single greatest expenditure. The materials you choose for your cabinets will play a significant role in their cost—as will the degree of customization your choose. Standard sizes and configurations will cost significantly less than completely customized cabinets.
Countertops
Your countertops will most likely be next on the list of higher cost features for your kitchen. Once again, you'll have a lot of options—and a wide range of prices when it comes time to choose countertop materials. We've listed some popular choices here—from least expensive to most expensive. When choosing you'll want to balance the cost of the material with value each one delivers. That can include aesthetics, durability, and customization. The chart you see here provides you with a broad overview of counter materials by cost.
Flooring
In a similar manner, your next most costly feature—flooring—also provides a lot of different options and price points. Again, your choice of flooring will depend on your sense of style, your budget, durability, and maintenance. Some of the most popular choices (listed in descending order of cost) include hardwood, laminate/engineered wood, natural stone tile, ceramic or porcelain tile, and vinyl/linoleum. Bear in mind that there is a wide range within natural stone tiles alone.
Appliances
If you're sensing that there are significant ranges of cost in all of these categories, you're absolutely right! It holds true for the appliances you select as well. In addition to size and finishes (some newer finishes are more expensive) you also need to consider performance. Unless you are really serious about gourmet cooking you probably won't need gourmet-style appliances. And while you probably plan on having your oven/stove built into your cabinets, you'll want to consider that some refrigerators are designed to be built into cabinets as well. That means the sides may not be the same color/finish as the front. That could impact your carpentry/cabinet costs. Some ovens may have a higher draw on your electrical system—so you'll want to make sure you factor that in as well.
Changes to the Plan
A major cost for kitchen renovations has nothing to do with finishes or appliances. Making changes to your original plan can be really expensive. The farther along you are in the process, the more expensive this becomes. If your renovation company has to undo things that you've already asked them to do, you'll have to pay for removing existing work and re-doing it. That's why it's so important to plan carefully and make sure you have things the way you want them before building begins.
Along those same lines, there are some things you'll want to avoid from the beginning if you can. Moving existing appliances (particularly your oven) or moving your sink can dramatically increase your costs because that will likely involve changing electrical work and or plumbing.
Because each of these features can have a significant impact on your final costs, it's essential that you have a good plan before you get too far into the renovation. That's why we use a thorough and logical renovation process with all of our clients. It helps eliminate the surprises—and worries.