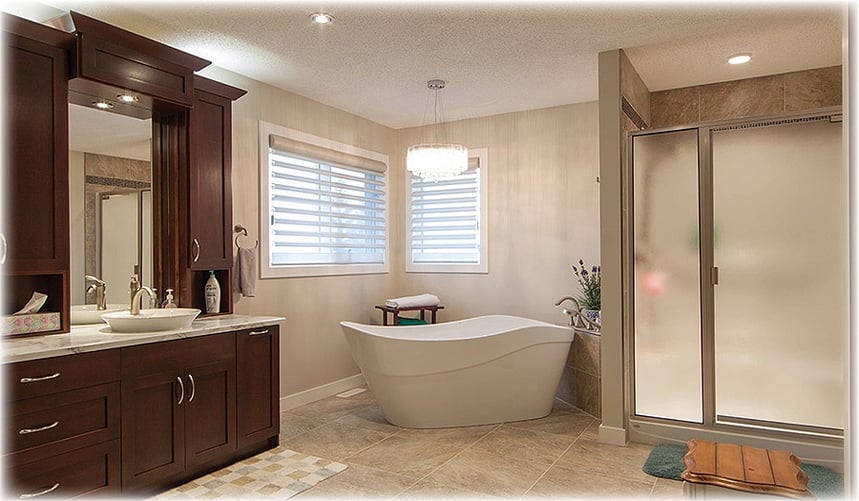 There's a reason that bathrooms continue to be one of the top two remodeling projects year after year. Your bathroom is a room you use multiple times every day. It's where you get ready for your day and it's also where you wind down before heading for bed. Successful bathroom remodeling should blend style, comfort, and convenience. What are the Essential features to include in your Edmonton bathroom renovation? Here's a look at eight features you won't want to overlook.
1. Shower Update: Your shower can help set the tone for your master bathroom. The trend today toward larger showers is a reflection of the combination of sleek style and comfortable convenience. Spacious step-in showers with built-in benches are easy to use and look elegant. You can opt for "zero threshold" shower such as the one you see here—or even showers with no doors at all.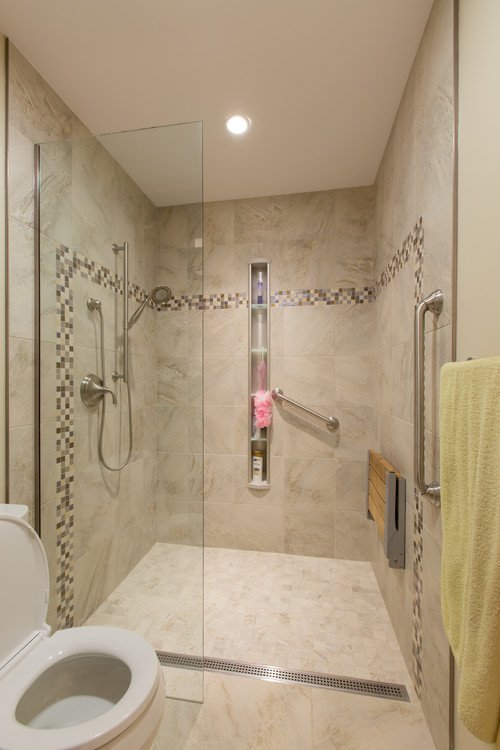 2. New Sink: You don't have to settle for a boring basic sink. An above-the-counter sink like the one you see above adds a touch of class to a bathroom. And you can select whatever material fits your personal preference. Having two sinks in your master bathroom makes getting ready to work or for bed a lot more convenient.
3. Storage Solutions: You can never have too much storage in your bathroom. Sometimes, it's a challenge to create storage space without sacrificing precious floor space. Recessed cabinets can increase your bathroom's storage capacity without making your bathroom feel smaller.
4. Updated Fixtures: Not all bathroom fixtures are created equal. Install multiple heads for your shower for an all-over shower. Or include steam for a spa-like experience. There's nothing like the comfort of warm steam on those cold Edmonton winter mornings (Plus, it uses less water than letting the shower run).
5. New Tile: Installing new decorative tile for both the flooring and the shower can make a huge difference in the way your bathroom looks and feels. Your remodeler can help you choose tiles that hold up well and are more slip-resistant.
6. Updated Lighting: Lighting in your bathroom is extremely important. On the one hand, you want "task" lighting that makes it easier for you to easily handle applying makeup, shaving, or hair styling. But you also want ambient lighting that makes it a relaxed and comfortable room. That's why you'll want to think about updating your lighting before you install cabinets and sinks.
7. More Natural Light: Another way to tackle the lighting issue in your bathroom is to look for ways to let more natural light in. While privacy is always a consideration, you can bring in more outdoor light with windows placed high on bathroom walls. Tubular skylights, such as the one shown here from Houzz.com are another way to bring extra light into a room that may not have a lot of windows to work with.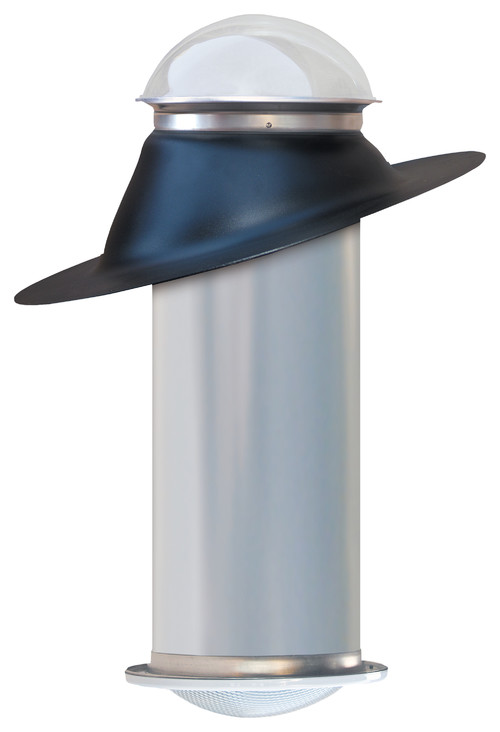 8. A Beautiful Vanity and Countertop:
Your vanity and your countertop are also focal points for your bathroom. Here is a great combination from an Edmonton bathroom we recently remodeled that highlights a beautiful combination of the two. It also gives you a sense for how to include storage space that doesn't take up too much room. And it also showcases the look you get from two raised sinks. Which countertop material is right for you?
Here's a post that goes into more detail about the different kinds of countertop materials
you can choose for your bathroom.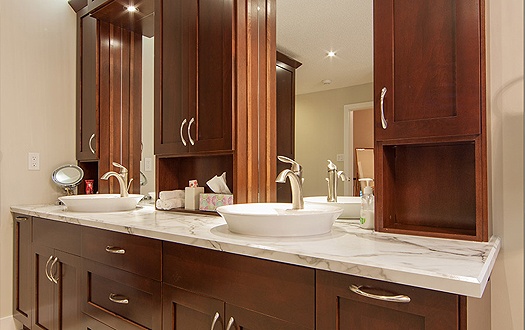 Keeping these eight essentials in mind as you plan your Edmonton-area bathroom remodel can help ensure that you end up with a bathroom that looks great and delivers the kind of comfort and convenience you expect.