Choosing the right cabinets for your Edmonton Home renovation can make the difference between a so-so outcome and results that you'll really love. Whether you're considering an inspirational kitchen renovation or looking at a beautiful bathroom renovation, that cabinets you select can make all the difference.
Here's a look a several cabinet ideas that illustrate what we're talking about. We'll begin in the bathroom.
Bathroom Cabinets
Here's a look at a main bathroom renovation we did in Edmonton recently. You can see how the warm wood adds character to the room and contrasts beautifully with the tile floor. Additionally, the tall see-through shelves add ample storage space for towels and other items and provide an element of privacy. And if you're wondering if new cabinets (along with the rest of the renovation) really make that much difference, take a look at this "before" picture of the same bathroom!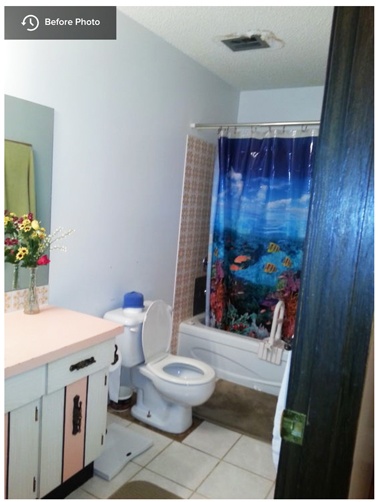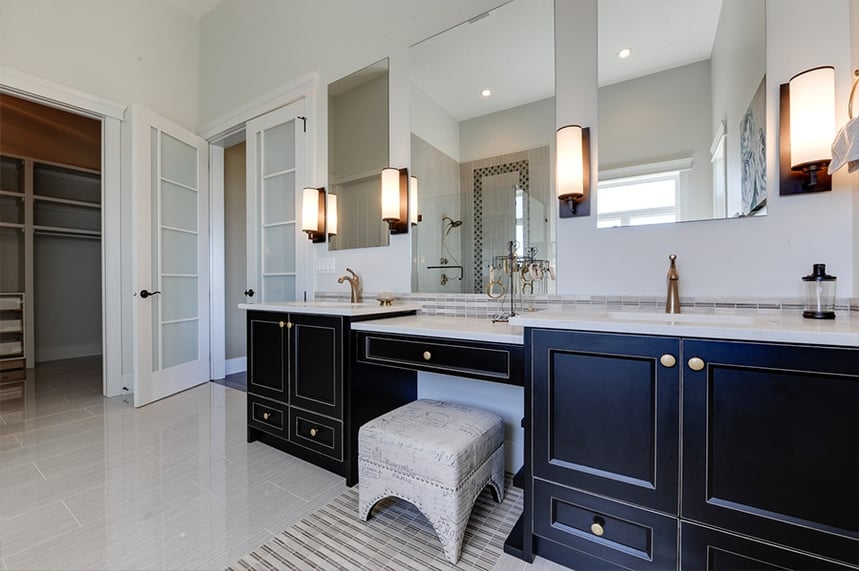 If you have your heart set on something a little more elegant, you might like the dark, black cabinets we used in renovating this Edmonton bathroom. The bold black cabinets stand in stark contrast to the white walls and trim, while multiple mirrors brighten the room and help to create visual space.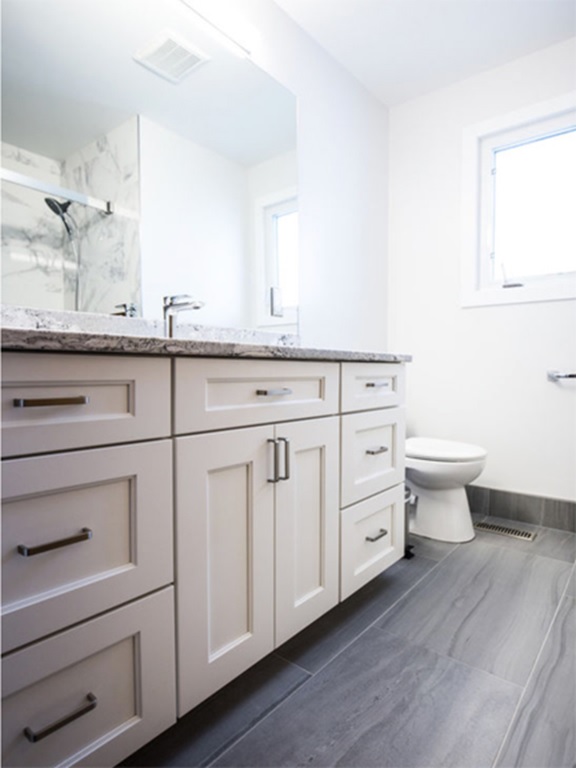 Here's a look at a bright and light Edmonton bathroom that makes great use of natural light (with a large window) and a large mirror to emphasize the light. The sleek, off-white cabinets accentuate the lightness of the room and are a nice contrast to the slate-gray tile flooring.
Kitchen Cabinets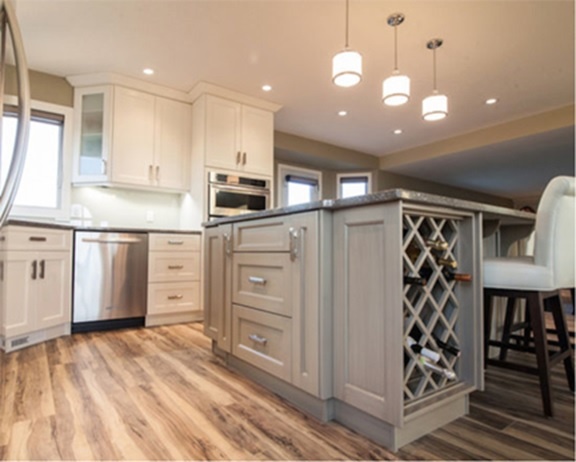 The kitchen in your Edmonton home is another area where cabinets play a prominent role both in terms of functionality and style. While white kitchens continue to be a popular trend, here's a look at a transitional style kitchen we renovated in Edmonton that uses a combination of white and grey cabinets with stunning results. The perimeter cabinets are all white, while the kitchen island is a soft grey. The island also serves double duty as a casual dining area (and the wine rack at the end is a nice touch).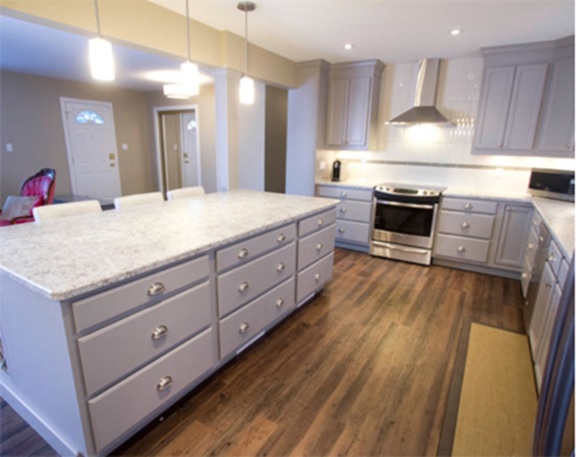 If part of your kitchen re-design is to improve functionality, this multi-generational kitchen upgrade may be something you'd want to think about. The large drawers in the cabinets you see here make it easy for everyone (including seniors) to access items wherever they are stored. And there is plenty of room for everything—leaving the countertops free of clutter.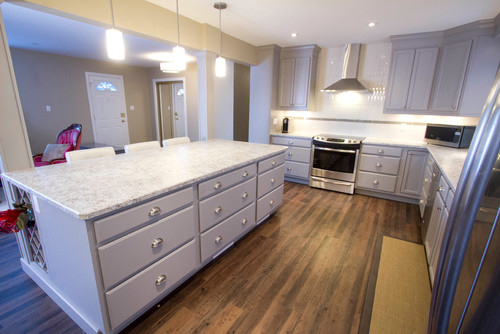 And speaking of countertops, you'll want your cabinets to look great with your countertops. Here's a look at five countertop materials you may want to consider to make sure everything works well together.
If you didn't see exactly what you're looking for, there are plenty of other options available to you that include simple, straightforward cabinets for your bath or kitchen—all the way to custom build-ins. We would love to help you find the cabinets that are perfect for your Edmonton home!