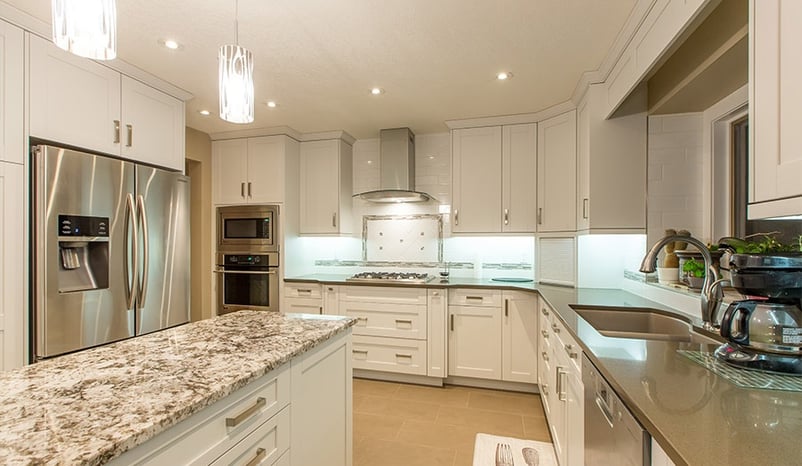 In all of the years that we've been renovating homes in the Central Alberta region, we've never had a client tell us that cost is of no concern. Individual budgets can vary widely depending on the scope of the project, but everyone we've ever dealt with keeps an eye on the cost. Some of the choices that you make can have a significant impact on what you pay. So let's take a quick look at how finishes can influence the cost of your Edmonton home renovation.
There are, of course, quite a number of finish materials that go into your home. For this particular post, we'll focus on flooring materials, countertop materials, and appliances.
Flooring Materials
Whether you're considering new flooring for your kitchen, your bathroom, your living room, or your bedroom, your choice of flooring materials plays a big role in how the room looks and feels. It can also really impact the cost you'll pay. Because there is a lot of variation in materials (and their cost to install), you'll see ranges of prices reflected.
| | | | |
| --- | --- | --- | --- |
| Material | Material Cost | Installation Cost | Total |
| Hardwood | $5–$15 per sq. ft. | $2–$8 per sq. ft. | $7–$23 per sq. ft. |
| Stone tiles | $7–$20 per sq. ft. | $6–$8 dollars per sq. ft. | $13–$28 per sq. ft. |
| Ceramic tiles | $5–$15 per sq. ft. | $6–$8 per sq. ft. | $11–$23 per sq. ft. |
| Laminate | $1–$6 per sq. ft. | $1–$5 per sq. ft. | $2–$11 per sq. ft. |
At first glance, there doesn't seem to be a huge difference in pricing. But when you multiply the amount by the square footage things begin to add up quickly. Let's say you have a kitchen with 240 square feet. The least expensive option above (laminate) could run between $480 to $2,640 and the most expensive option (stone tile) could cost between $3,120 to $6,620. That's a considerable difference. Click here for a helpful post on selecting the best flooring for your Edmonton home.
Countertop Materials
Picking out the countertop material for your kitchen or your bathroom is another area where there are wide ranges of costs. Here are a few common choices. In this case, we've combined materials and installation costs. We're assuming a kitchen with two 9 x 2-foot counters, a 6 x 2 foot counter, and an island measuring 3 x 5 feet for a total surface of 63 square feet.
| | | |
| --- | --- | --- |
| Material | Material/Installation Cost | Total |
| Granite | $50–$200 per sq. ft. | $3,150–$12,600 |
| Quartz | $100 – $150 per sq. ft. | $6,300–9,450 |
| Marble | $125 – $250 per sq. ft. | $7,875–$15,750 |
| Solid surface | $75 – $120 per sq. ft. | $4,725–$7,560 |
| Stainless Steel | $75 – $150 per sq. ft. | $4,725–$9,450 |
| Soapstone | $70 – $120 per sq. ft. | $4,410–$7,560 |
| Formica | $20 – $30 per sq. ft. | $1,260–$1,890 |
Once again, you can see a vast difference in the pricing of different materials. Your dimensions could be larger or smaller, but the square footage adds up quickly. By the way, here's a helpful post about evaluating countertop materials for your bathroom.
Appliances
Your choice of appliances can also have a huge impact on the cost of your renovation. There are so many different options that we won't actually show individual comparisons. Consider, however, the difference in cost for a gourmet-style kitchen that contains appliances from Sub-Zero/Wolf (range/refrigerator/ dishwasher). It wouldn't be unusual to spend $23,000 for that package. On the other hand, you could install what's commonly considered an affordable luxury kitchen (i.e. several steps up from the "economy" choices) for around $5,000. Again, it's a big jump. What's the right choice for your home? Click here for an overview.
The Other Side of the Coin
There is, of course, another side to this discussion. If you have a passion for gourmet cooking, you might be more than willing to purchase ultra high-end appliances—and they'd be worth it to you. Beyond that, you'll want to look beyond price to value. Often more expensive materials will last longer and perform better. It can actually be less expensive (over time) to install superior materials because you don't have to replace or repair them (two Formica countertops @ $1,890 cost more than one lower end granite countertop @ $3,150).
You'll also want to keep resale in mind. You're probably renovating your home for your own benefit and enjoyment. But it's not a bad idea to keep resale value in mind. Some finishes can make your home more desirable and bring you a better selling price should you ever decide to sell. That can work both ways, however. Opting for a trendy finish just because it catches your eye can cost you more initially, but can potentially put off potential buyers down the road should that trend fall out of fashion.)
Only you can decide which finishes best match your needs, tastes, and budget. But if you want to keep an eye on costs, watching your finish choices is a good place to start.