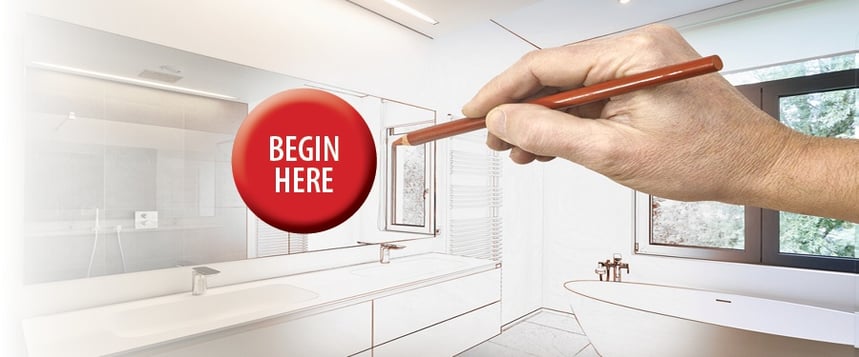 When you're thinking about renovating the bathroom in your Edmonton home, it's easy to jump into all the details about fixtures, countertops, and colours. And while those things are important (and a bit of fun) the real work starts long before you get to those kinds of things. Let's take a look at where to begin when planning your Edmonton bathroom renovation.
Set Your Goals
It's not enough to simply say you want a new bathroom. You need to get specific with your goals. What are the problems you face with your current bathroom? What are the specific things you want to change? Do you need more space? Is the room too dark? Do you need/want double sinks so that there's no jockeying for access? It's also helpful when setting goals, to identify things as "essentials," things that would be "nice-to-have," and things that are "luxuries" (things you'd like to have if there is money left over).
Set Your Budget
It's important to have a realistic budget for your project. The key word here is "realistic." If you set your budget too high (more than you can really afford) you can find yourself in trouble with a gorgeous bathroom plan that you can't actually afford to build. That's frustrating. On the other hand, if you budget too low (less than what it really takes to do the job the way you want it done), you'll be disappointed it the outcome (and probably upset with yourself that you didn't spend a little more). The key is to clearly identify essentials and then be realistic about what you can actually afford to do. If you're looking for a starting point, here's an article that talks in general terms about how much a bathroom renovation in Edmonton costs. That at least gives you some figures to help you budget.
Create a Plan
Great bathrooms don't "just happen." They come about as the result of a good plan (you can read that as a good design) that incorporates your wants and needs with the space that's available. As a design-build remodeling contractor, we work with you to get the maximum utility out of the space you have. Because we build and design, we can sometimes "find" space that you didn't even know was available. Another advantage to using a design-build renovator is that we're not going to create a plan or design that can't be built. The people that create the design are on the same team as the workers who wield the hammers and saws. It's a coordinated effort. That's also what enables us to deliver a fixed cost solution. You won't find yourself with surprises at the end that cause the project to go over budget.
That's where the real work begins when renovating your Edmonton bathroom. Set your goals clearly. Set your budget realistically. Then create a plan that brings those two things together. That's the point at which you can get into the "fun" stuff like picking finishes and fixtures!