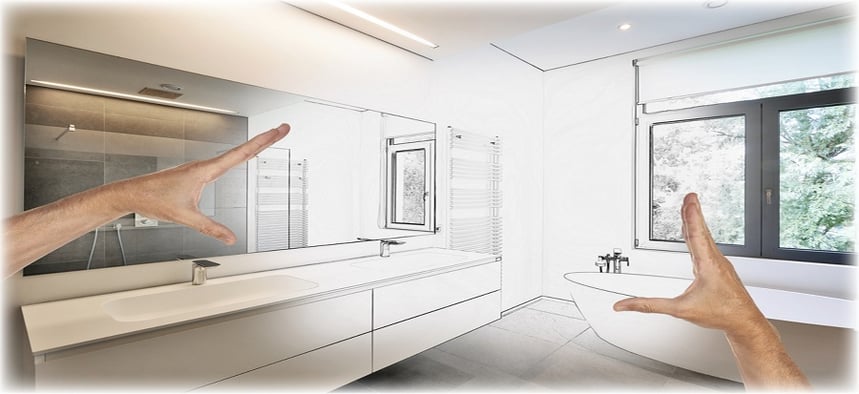 Where does an Edmonton Home Renovation really begin? It's easy to jump into details such as finishes, flooring, cabinetry, wall colors, and lighting. But successful renovation comes from good planning. Here are 6 tips to help you plan well.
Don't Rush
Don't short-circuit the planning process. Take time to think about what you want to accomplish. Many homeowners let a date or an event drive the schedule. If you're trying to have your project completed by Christmas or Easter or for a wedding, make sure you allow plenty of time to think and research before you start. It's much better to have your kitchen remodel done two months before Christmas than to be scrambling on Christmas Eve. Here's an article that provides an overview of how long it actually takes to complete a renovation project.
Write Down What You Really Want
What are your main objectives for renovating? Do you need more space? Does your current space keep you from doing things you like to do (i.e. entertain)? Do you want to let more natural light into your living space? Is your kitchen inconvenient for cooking and or eating/entertaining? Are you simply looking to freshen things up?
Differentiate Between Wants and Needs
As you read articles and watch renovation shows on television (or watch YouTube videos) you'll see all kinds of beautiful, fascinating, and intriguing ideas for your home. But it's important that you keep wants and needs in their proper perspective. Some things might be "nice to have," while others are essential. Make a list of all the improvements and changes you'd like to make. Then go through your list again and mark each item as "Essential" or "Nice-to-Have." This will be a huge help in the next step.
Create a Realistic Budget
It's easy to plan an elaborate renovation if there's no budget. Take a hard look at your finances and calculate what you can really afford to do (even if you're getting a loan to accomplish your renovation). When we talk about creating a realistic budget that means you don't plan too high or too low. If you budget beyond your means, you can find yourself financially stressed—and it's hard to enjoy your home when you're stressed. If you budget too low, you probably won't get the things you really want (and even need). You won't be happy that way either. Your goal isn't to see how cheaply you can renovate. It's to figure out how to get the best value for the money you spend. Here's one more piece of budget advice. Allow a little bit of "wiggle room." Unforeseen things can come up during a remodeling project. Sometimes you may want to make a small upgrade that will be much cheaper during the process than it will be if you come back and do it later. To give you a rough idea of how to budget check out these posts on bathroom renovation costs, kitchen renovation costs, and even the cost to renovate your basement.
Have a Plan
Good renovation results come from good plans. Thoughtful design is key to ending up with a home that is more comfortable and convenient. That's one of the advantages of working with a design-build renovation company. The people that help you create the plan for your renovation are part of the same team that actually completes construction. This ensures that your ideas and plans don't get lost in translation.
Select Your Contractor
Taking care to choose the right contractor for you is one of the most important parts of the whole renovation process. In addition to finding someone with the skills, experience, and expertise to do the job right, you'll also want to choose someone you feel comfortable with. That doesn't mean you have to hang out at the hockey rink together or send each other Christmas cards, but it does mean that you select someone who listens to your ideas and input. You want to work with someone you trust. Here's a helpful post that talks about how to interview renovation companies.
As the great French writer, Antoine de Saint-Exupéry, famously said: "A goal without a plan is just a wish." Hopefully, these tips will help you formulate a good plan for your renovation goals.