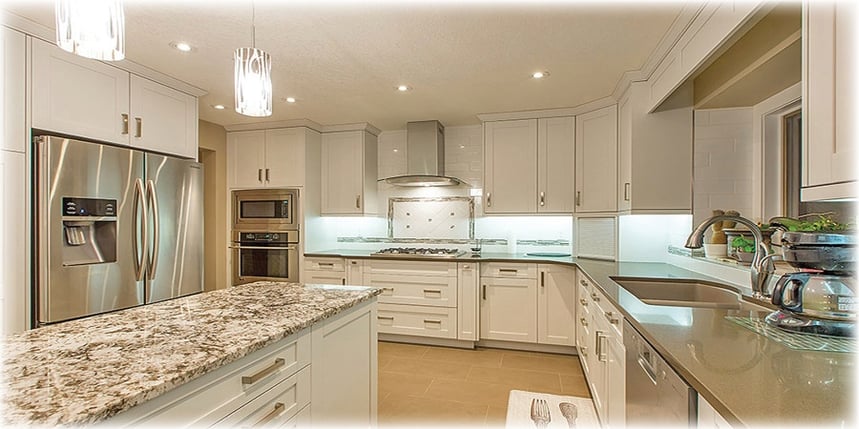 Renovating your kitchen is a significant undertaking that involves a lot of different variables. Where should you start? Here's a look at 6 essential features to include in your Edmonton kitchen renovation.
Layout
Maybe you don't think of the layout of your kitchen as being a feature, but it's the one element upon which everything else depends. The way your kitchen is configured makes all the difference in how much you'll enjoy it. Think about how you use your kitchen. Is it primarily a place to prepare meals? Is it a place where your family gathers for casual meals and breakfast? When you entertain, do guests tend to gather in your kitchen? Here's a helpful post that delves into why design-build is a great choice for any renovation you're considering.
Storage Space
It doesn't matter how great all the other features in your kitchen are if you don't have room for everything. A lot of kitchens today employ open cabinets or shelving. It's a great look, but if those spaces are full of "stuff" they're really not that attractive. Keep storage space in mind as you plan your kitchen. Your design-build contractor can help you find space you never knew you had. And the cabinets you choose can be configured to store more than you might have thought. Check out this post that provides seven tips for an organized kitchen.
Cabinets
Your choice of kitchen cabinets is critical. It will impact the look, feel, and convenience of your kitchen. While it's true that the material you choose (wood, paints, finish) will have an effect on the way your kitchen looks, the way your cabinets are configured (pull-out shelving, custom sizes for things such as baking trays or small appliances) will have a major impact how functional (and uncluttered) your kitchen is. Take a look at the visual impact choosing the right cabinets can have when renovating your kitchen.
Countertops
There is a wide range of countertop materials from which you can choose. Often homeowners focus on what the countertops look like. That's important, but you also need to consider how those countertops will be used. Will they be primarily "working" countertops? If you entertain a lot it may be more important how they look. Which materials will hold up best for the way you live? If you're looking for more information, take a look at this post about five countertop materials to consider for your kitchen renovation.
Lighting
Lighting is perhaps one of the most important features in your kitchen, but it's often one of the last things homeowners think about when planning a renovation. To be honest, your lighting choices can make or break your kitchen. What makes lighting a challenge in the kitchen is that you have to think about multiple ways that lighting plays a role in the kitchen. You'll need lighting for specific tasks and you'll want lights that help set the mood when you're entertaining in your kitchen. Here's an article that goes into more depth about the importance of different lighting options for your kitchen.
Appliances
Two things come to mind when considering new appliances for your renovated kitchen: Appearance and functionality. You'll want to choose appliances that look good in your new kitchen and will also meet your needs for the kind of cooking and entertaining you do. If the kind of cooking you do requires a Sub-Zero freezer and a Viking range, that may be the right choice for you. For many homeowners that's a bit of overkill. Go for quality, but there's no need to overspend for something you really won't use. When it comes to color, it's really going to depend on the rest of the color scheme for your kitchen. People keep predicting the demise of stainless steel finishes, but they remain popular. One color making inroads, however, is the new "black stainless" that's not quite as dark as a conventional black finish and has a nice luster to it. Here's a post that discusses what you need to know about kitchen appliances such as refrigerators, ovens, and ranges, and dishwashers.
While features are important, it's important to keep your budget in mind. You don't want to overspend and get yourself into a position in which you can't enjoy your new kitchen. On the other hand, you don't want to cut corners and end up with a kitchen that doesn't meet your expectations. So how much should you plan to spend? Here's a look at what a kitchen renovation in Edmonton actually costs.